Once standard 2-step verification is enabled, you can enable additional options for added security.
To enable trusted devices, click on the Application Settings button in the top right of the platform:
This window will default to the Accounts tab so you would click on the 2-Step Verification tab followed by clicking "Enable" under the trusted device section:
After enabling, you will receive the below message and the current device will be set up for a trusted device.
To remove trusted devices, go to Applications Settings>My Devices.
When signing in from a new device, you will still receive the email for approval. When clicking on Approve from the email, you will need to validate via your chosen method. Select 'Sign in on a trusted device
Click 'Send', this will send a message to an open Tradovate application.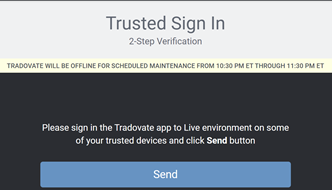 On the open Tradovate application, you will receive a message to approve or deny the device. Click Approve to approve your new device. Once approved, the new device will be able to sign in and will be shown on 'My Devices' as a trusted device.