Once standard 2-step verification is enabled, you can enable additional options for added security.
To enable the security key, click on the Application Settings button in the top right of the platform:
This window will default to the Accounts tab so you would click on the 2-Step Verification tab followed by clicking "Add a security key" under the security key section:
On the popup, click 'Choose Security Key'.

After clicking 'Choose Security Key, the application will reach out to your device to set up your specific security on your device.
This example is using Chrome on a Windows computer-
When signing in from a new device, you will still receive the email for approval. When clicking on Approve from the email, you will need to validate via your chosen method. Select 'Security Key'.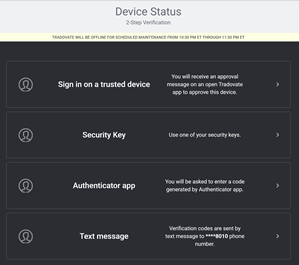 A validation will appear depending on which Security Key was selected. This example shows if a Windows Fingerprint was selected to validate. Once scanned, the new device will be able to sign in and will be shown on 'My Devices' as a trusted device.