Once you've set up standard 2-Factor Authentication, you can add additional security steps.
To enable the Authenticator Application, first navigate to Application Settings.
Next, choose the Security & Privacy tab.
Scroll down to the Add Additional Verification Steps heading, and look for the Authenticator App subheading. Click Set Up.
Choose your device - we support Android and iPhone. Then click Next.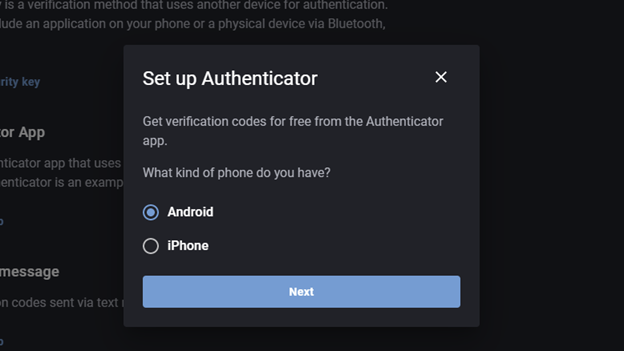 Then go to the Play Store from your android phone or the Apple Store from your iOS device and download an authenticator app, such as Google Authenticator. Scan the QR code in the modal and then click Next.
When you next log in you will be required to supply a code generated by the Authenticator application additional to your standard credentials.
Then enter the 6 digit Authentication Code into the input field and click Verify.
When you sign in from a new device with the authenticator enabled, you will still receive an email approval. When you click Approve from the email, you'll need to validate via your preferred authentication method. In this case, choose Authenticator App. Enter the 6 digit code and click Verify. Once verified, your new device will show up in the Security & Privacy tab under the Trusted Devices heading.